Experience the authentic Martinique all under sail.
Come and spend an extraordinary day with Madisail, to discover the beauties of the North Caribbean of Martinique, on an outstanding boat. A unique, eco-responsible experience in a very small group. From the pretty village of Case-Pilote.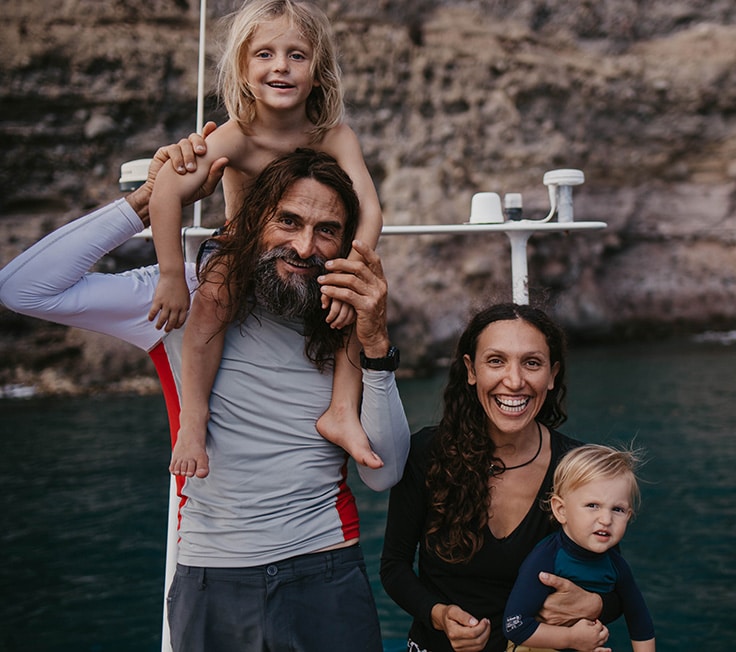 Hello, we are Pol, Jessica, Manec'h and Isaac.
Madisail is the story of our family and our common passion for adventure, sailing and nature.
We are delighted to take you for a ride on Fildou, our racing trimaran. With an ecological requirement as a backdrop, which is part of our daily life.
We also wanted to make this practice accessible to everyone, that's why our boat is equipped for your safety.
To learn more about our values, and get to know us a little better, click here.
INCREDIBLE DAY Thank you Paul for your hospitality, your generosity with the children, your patience and your sharing of your passion! The experience on Madisail is definitely the highlight for the whole family of our vacation in Martinique. We'll see each other again if we don't go back there! Good wind and good sailing!
THE ZEN SEA A friendly captain, listening to each and everyone, a mastery that gives this moment a taste of perfection. Indeed, neophyte, on the ground of the sea, and moreover, by embarked on a sailboat of competition, the cap' tain Paul knew, to make us vibrate during all a day, by his explanations of what represents for a passionate person as him, the glide and the beauty of these blue expanses, that by the aquatic stroll strong of diversities and comments which learned us the fauna and the flora that he made us discover. In short, if you want to enjoy a moment out of time and the pleasure of sliding. So don't hesitate to call Madisail and discover the charm of sails.
UNE WONDERFULL EXPERIENCE Going off the tourist trail for such a side road brought us right into the middle of paradise. Polo and Jessica are passionate and generous people whose kindness is matched only by the beauty of the place. A unique experience on an exceptional sailboat, fast and stable, for a day totally out of the ordinary, that we will keep in memory jealously. Our 12 and 14 year old children shared our enthusiasm without restriction.
Our departure is from the charming little village of Case-Pilote, on the North Caribbean coast of Martinique. We have chosen this place because we live here and wish to share with you the authenticity of our daily life in Martinique.